Dear WWMG community,
We have good news for you! The updated WWMG Sport Schedule is available which will allow you to better plan your trip. In combination to that, you will have the possibility to register for an additional sport. Moreover, we would like to give you supportive information on rifle import.
WWMG Sport Schedule 
In coordination with our sports organizers the organising committee extended the WWMG Sport Schedule. To get an overview of all your competition days, check the competition days of your sport, view the current schedule (www.innsbruck2020.com/programme). We recommend you to be there during the entire competition phase of your sport. As a perfect introduction to the WWMG 2020, we would like to invite you to welcome the unique sports festival together in Innsbruck. With the opening ceremony on January 10, 2020 a very special highlight awaits you. We would also like to draw your attention to other programme items, such as the closing ceremony of the WWMG 2020 and the diverse and attractive programme in the Masters Village. Please note that due to organizational reasons (weather, etc.), short-term changes may occur. In this case we will inform you in time.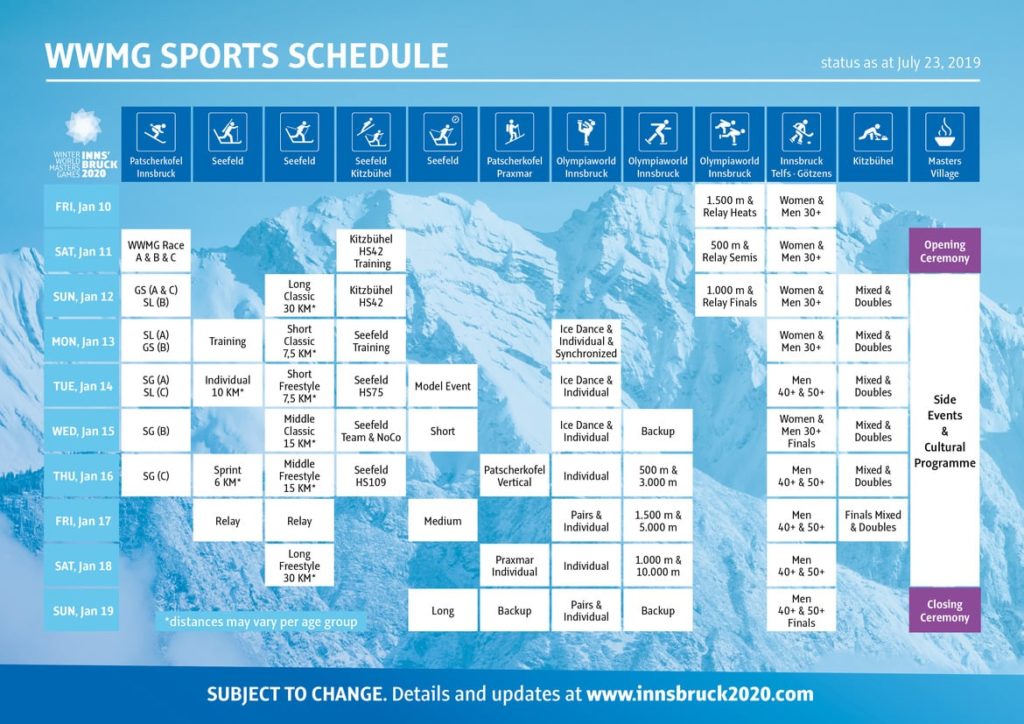 Registration of Additional Sport
You are already registered as a WWMG athlete but don't have enough? Then check out the multisport check on our registration page (www.innsbruck2020.com/registration)! The multisport check gives you the opportunity to sign up for a second sport. Requirement for participating in a second sport is the registration in one of the following sports: Biathlon, Figure Skating (Individual, Pairs or Ice Dance), Speed Skating, Cross-Country Skiing, Nordic Combined, Short Track, Alpine Skiing, Ski Mountaineering or Ski Jumping. Registration costs for the second sport are 90 € (plus service charge). Work on a regulation for Ski Orienteering is currently in progress.  
The multisport check is neither a waiting list nor registration. We will check all multisport requests individually and send you a feedback via email. Please note, that you must check independently whether participation in all the sports you choose is possible in terms of time and location organization. More details can be found in the current version of the preliminary announcement on your sports detail page (www.innsbruck2020.com/sports). For further information about the multisport check proceedings check www.innsbruck2020.com/registration. 
Biathlon: Import of rifles 
Finally, we have news which only affects the biathletes. Here (https://www.innsbruck2020.com/en/sports/biathlon/40-826.html) we have summarized some tips for you to help you with the transport of rifles to and within Austria. All information without guarantee. Every athlete is responsible to organize the import of his/her rifle for the Biathlon competitions into Austria or the EU on their own.